Premier League up for grabs through first seven weeks
The two teams from Liverpool and that contend the Merseyside Derby – Everton and Liverpool – currently lead the highly-competitive Premier League with 13 points. Photo courtesy of Reuters.
Peter Burtnett
Sports Editor
In a year defined by chaos in and out of sports due to the COVID-19 pandemic and social unrest, the Premier League has continued the trend, with first through 15th place separated by just six points through seven weeks.
The first matchweek was fairly uneventful, though a thrilling match-up between last year's champions Liverpool and promoted Championship winners Leeds United ended 4-3 in favor of the Reds. A Mo Salah hat-trick won the day, but even though the scoreboard didn't show it, Leeds announced their arrival in the Premier League.
The next week saw an incredible (PL-record) 44 goals, with three matches reaching seven combined goals, including another Leeds 4-3 goal-fest, this time in favor of the Lilywhites over Fulham. Everton and Tottenham both earned 5-2 wins over West Bromwich Albion and Southampton, respectively.
The chaos from the first two weeks was incredible to watch, but it didn't end there. In a year dominated by the unknown happening, the next week saw Manchester United pull a late winner against Brighton & Hove Albion (3-2) and Chelsea, with all the big-time summer signings, overcome a 3-0 deficit to West Brom to draw 3-3.
Bigger than those tight matches for two of the Premier League's most successful teams, the defending champions' performance against last year's almost-relegated team (17th) was astounding – in a bad way.
Aston Villa, led by Jack Grealish, young new signing Ollie Watkins and loanee Ross Barkley from Chelsea, were perfect in a 7-2 beatdown of the reigning champions, extending Villa's incredible start to 3 wins from 3 games.
https://twitter.com/AVFCOfficial/status/1313007531221020672
In the same matchweek (4), another game that happened just before Villa throttled Liverpool was expected to be the biggest story.
In an abysmal performance by Man United, Tottenham Hotspur banged six goals past the line to the Red Devils' one, an embarrassing performance for the team with the most Premier League titles, and a really good showing for Spurs.
The next week, the newsworthy moment was not a good or bad performance by the players on the field, but instead by the Video Assistant Referee (VAR). The VAR system has already caused incredible controversy over the last few seasons, but in a game-winning goal situation in the Merseyside Derby (Everton-Liverpool), a win became a draw on this offside call: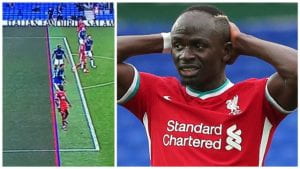 Sadio Mane was ruled offside by the barest of margins against Everton (Photo: BT Sport/Getty)
As a bystander and a fan of neither team, it's fairly clear to me that this was the wrong call, but Everton were the beneficiaries and continued their unbeaten run and remained at the top of the table with 13 points.
In another exciting, but disappointing, match for Chelsea, Southampton twice overcame a deficit, first 2-0 and then 3-2 to come away with a point in a 3-all draw.
Chelsea have been the most disappointing team in the Premier League this season, if only because they have only earned nine points from seven games after signing £200 million-plus worth of players over the summer transfer window.
https://twitter.com/ChelseaFC/status/1320067904684150784
However, their latest opponent, Man United (who they drew 0-0 against) have also been incredibly disappointing, earning just seven points from five games played, wallowing down in 15th place.
All is not lost for Man United or Chelsea (or Manchester City, currently in 13th with just 8 points), though, as league leaders Everton – ahead of second-place Liverpool on goal difference (+5 to +1) – are on 13 points, while Man United is just six points behind (7) with a game in hand and lots of games to play.
Last year at this time, Liverpool's incredible start saw a 15-point difference between first and 15th (21 to 6). This year, just two losses from the teams at the top and two wins from the teams lower down would mean a tie in points at the top of the table. Any team is really still alive at this time, which is a far cry from the recent dominance of Liverpool and Manchester City.
https://twitter.com/premierleague/status/1320853990389796864
In a year like this, the table shows that most teams, besides West Brom, Burnley, Sheffield United or Fulham, have a legitimate shot to compete for a European spot, if not the league lead.
Aston Villa are still waiting for the Man City fixture from week 1 to be rescheduled (along with Man United-Burnley; enforced break for Manchester clubs because of European competition), so a win (or draw) in that missing game would turn the Villains from last year's worst team to stay up, into the league leaders (on current goal difference).
Don't keep your eyes closed watching this season, because you never know what might happen and which team might win each game! Every team has at least one loss, and some might not have been what was expected.
For more sports news like Flyer News on Facebook and follow us on Twitter (@FlyerNews & @FlyerNewsSports) and Instagram (@flyernews)